1. Cave in #1
Well, after resisting
various
posts
on the
subject
for a bit over a year, I've finally given into temptation and ordered a
clicky keyboard
from Unicomp.
It should be here Tuesday. I'm trying to resist the urge to check UPS for status updates every five minutes. I'll report fully after a few days of using the thing.
2. Cave-in #2
I still have about a chapter left to go on my '09 NaNo, but I'm stalling on actually writing by working on the digitization instead. Actually, it's not really stalling--I need this time to get back into the story, since I abandoned the poor thing for so long. I started out typing things up on the
Neo
, but in the last week, I started doing OCR instead. The mini version of OmniPage that comes with the inexpensive Canon scanners is actually really good--at least for fairly dark type and certain typefaces. It really likes the SG-1. As I'm getting into the later pages, when I was debating whether or not to change the ribbon, it's a little more challenging. Still a lot faster than retyping, and with all the going over the text I have to do, still a good review and opportunity to do a first-pass edit. I'll be printing it up to really hack away at after this part is done.
3. Other update-just-to-update type jabbering:
After years of hearing their ads and thinking, "hey, betcha that'd be a cool place to visit," I finally went to
Shipwreck Beads
with my sister yesterday. I *love* beaded earrings, but have never gotten into making them. She does a bit. I'm gonna have to learn.
That place is overwhelming. Good golly. Imagine a grocery store sized place of nothing but beads and associated crafty things, in all sorts of colors and shapes and sizes and textures and materials. There are strings of beads, drawers and drawers full of charms, loose beads of all sorts, from tiny shell beads to big blown glass beads and everything in between. Also these funky little
rubber beads
, which I wanted to buy in great quantities just to handle.
You carry a little tray through the store to pick out what you want, writing down codes for any loose stuff, like at a hardware store. For the more intrepid shoppers, they even had carts with space where you could lay out bunches of trays, and pegs for hanging stringed beads and such like.
We didn't spend much, partly just because there was too much to take in on a first trip. Wayyy too much. Margaret got a few beads and earring supplies and we walked out, a little dazed. We'll have to go back.
Also, after we got back from the bead store, I finally did a dry-run for my new bike commute on the trail from the new house. It's not a bad ride, *except* for a *different* fun busy-four-lane-road crossing, where you either have to go a lonnng way out of the way to get to a very slow traffic light and wait to cross at the crosswalk, OR do what 95% of folks do and wait for a gap in traffic, dash for the median, wait for another gap, and run like mad for the other side. It's like real life Frogger. Lots of fun. At least the rest of the ride is simple and entirely off roads. Lots of people around still, but that's OK.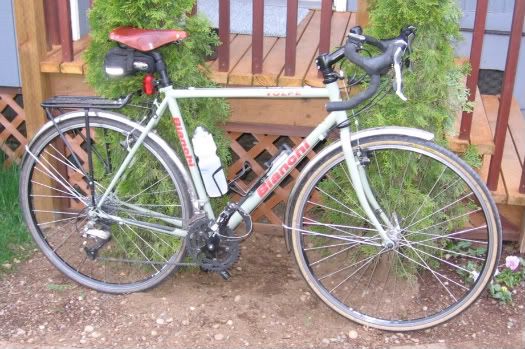 My bike is purty.