So...um...you knew this was gonna happen, right? You enablers you....
I'm now in the enviable position of being able to directly compare an SG-1 with an SG-3. I'll hold off on details until I've had a bit more time to do so.
After being told that it was pica (I'd told myself I wouldn't jump for it otherwise), I then set myself up a second stumbling block: I wanted to come up with at least half the money in some way that didn't involve dipping into the bank account. And it occurred to me that I've not cashed in any change in the few years I've been here. I have a habit of tossing loose change into the bottom of my pen mugs (I have far too many of those), plus leaving it all over the house. I spent about an hour gathering it all up. Picture a grown woman running frantically through the house checking coat pockets, purses, the counter by the sink in the bathroom, the top of the dryer, underneath the bed, the night stand...everywhere I tend to dump the stuff. It worked, though: I came up with nearly thirty bucks in change, well above the halfway mark.
This also says a great deal about how disorganized I am, but we'll leave that thought alone for the moment.....
I took my pot o' change to the grocery and used the change machine there. They charge a bit for the service, but it's pretty reasonable. I still came out with twenty seven bucks, and I took the rest from my just-for-fun savings account, so I didn't have to touch the main account at all. I feel absolutely virtuous....
Then, having called and set up an appointment, I dawdled around the house nervously for a few hours, waiting for it to be time for me to go look at it. Just look -- no need to buy unless it's absolutely right. Yeah. That's the ticket.
It was sitting on its stand on the sun porch in back of the house, though there's no sun today. It is a very Washington sort of day. Much like the night Bernard arrived, in fact. It was even greener and handsomer in person. Love that chrome trim -- we don't use chrome trim enough these days! But...there were downsides, too. For starters, she measured the typeface wrong. Not pica. It was yet another of those weird Olympia 11 pitch machines. It seems to be the most common size around here, for some reason. And the ribbon didn't work -- not only was the black ink too dried up to make an imprint, but the ribbon was one of those nasty, awful, terrible, disgusting black and white "correcting" ones, with sticky white dust and white flaky chunks dripping off and into the poor typer's innards with every press of the keys. The seller indicated that her husband had had "problems" with the ribbon, but wasn't sure if he just wasn't getting a good print from the existing ribbon or if it was more than that. But oh, it felt nice to type on: light and quick and springy and yet solid and snappy at the same time. Someone on the Yahoo Typewriters group described the SG-1 as "a sensitive battleaxe", and typing on it like "driving a knife through butter." I think I understand.
She was able to tell me a bit about its history, and even had a maintenance record for it, showing that it was purchased new in 1959 (same year as the mojo Hermes 3000 -- they can reminisce together), and had maintenance regularly for the next decade and a half. She said it was the work typewriter of a friend of hers, and when it was replaced in the 70s and sent to surplus, another friend of hers bought it. That friend's husband was an upholsterer, and he made it the quilted cover that was pictured in the Craigslist photo. I'm not as clear on how it passed from friend #2 to her, but she said for the last few years, it only gets used once a year: her husband uses it to address Christmas card envelopes, and that's it. The rest of the time it's been sitting wrapped up in its pretty cover in the sun room. Kind of a sad life for a serious old workhorse of a typewriter. And so, against my better judgement, I brought it (and the stand) home.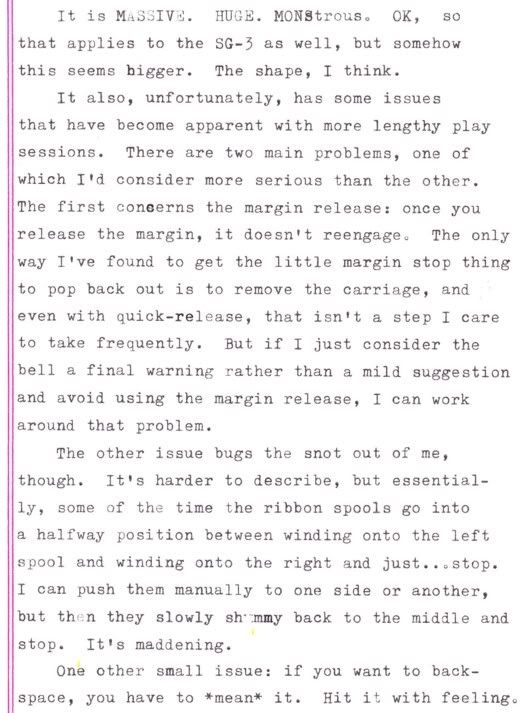 Sebastian (named partly just because it fits, for no definable reason, and for a character in the novel I'm hoping he'll finish with me) is now here in the computer room, convenient for typecasting and editing work, and Bernard (who will still be my main typing buddy) sits on the big ugly desk facing the big ugly window overlooking my big ugly yard and the big ugly mini-mart place next door. Someday, hopefully I have a more inspiring vista....
And time will tell how I feel about the new guy. As far as pure typing feel goes, it's unsurpassed. But the ribbon weirdness just has to go.