I just received the Levenger Christmas catalog, and was pleased to see a Royal standard typewriter on the cover. Then at second glance, I realized it was completely out of proportion to the items placed around it--pens and a wallet and what-not. Turns out, it's a
replica in miniature
, intended for use as a bookend. I'm not about to pay $98 for a miniature typewriter sculpture, but I'm impressed by the detail. It's typewriter jewelry of a completely different sort.
I was also struck by the story behind the model: it is a replica of David McCullough's Royal, purchased in the mid-60s and still his only writing companion. It got me thinking.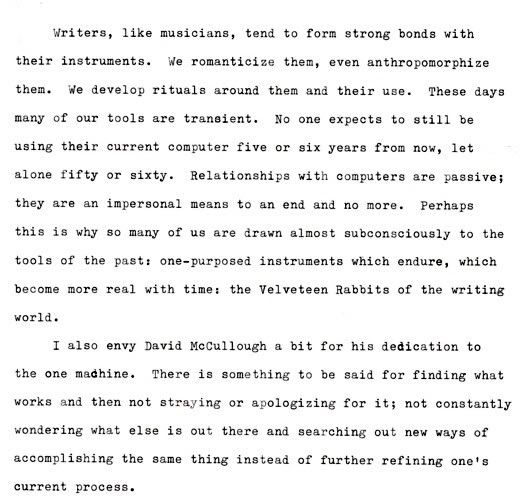 (I admit, I haven't read any of his books. I should probably remedy this.)
I'd also highly recommend all retrotechie writers browse on over
here
for a very interesting post on writing processes--be sure to check out some of the linked sites, too! Fascinating stuff.